CONFERENCE NUMBERS
Please plan to bring enough promotional materials for 350 - 400 attendees.
EXHIBIT HALL
Each sponsor will be assigned an exhibit space that includes:
A rectangular, skirted table (1.80 cm x 45.5 cm)
2 chairs
1 branded tabletop sign that includes your sponsorship level as well as your logo
Access to power. This maybe from a shared power bar.

Set-Up: Wednesday September 6th at 1pm
 
This is a CLOSED event and is restricted to registered attendees, wearing a conference name badge. Sponsors are asked not to invite clients, business associates or staff to "drop by".
There is no pre-selection of table locations. Table locations are only determined once the management team has been granted access to the exhibit hall (usually Wednesday morning).
You may wish to enhance your space with one single sized pop-up banner, a branded table cloth and/or flowers.
You may display any promotional items or materials on your table, including those of subsidiary or parent companies.
You will not be able to attach a banner or any promotional material to a wall.
Please do not place a banner, on your table, that takes up the entire table. This may result in you blocking another table.
There will be an optional sponsor draw on Thursday, end of day. If you choose to participate, please bring something to collect business cards (i.e., bowl). Past prizes include - electronic devices (ipads, bluetooth speakers), alchohol, handcrafted items/art (from your country).     
COMPLIMENTARY DELEGATE PASS - NEW FOR 2023
Each sponsorship package now includes a complimentary delegate pass, instead of the previous complimentary exhibitor staffing pass.
A special registration link is needed to register for this delegate pass. It will be emailed to the sponsor's primary contact.
Do not use the registration link availalbe on the website - its for paying delegates only.    
EXHIBITOR STAFFING
Staffing is at the discretion of the sponsor and can be staffed by any registered attendee (delegate, speaker, exhibitor staff).
Optional - Exhibitor Staffing Passes - $750
Includes access to both hospitality events, refreshment breaks and lunches.
DOES NOT include access to the conference session or conference materials.
Use the regular conference registration link to register and pay for this pass.
Sponsors are limited to 1 exhibitor staffing pass. 
SHIPPING ITEMS TO HOTEL
Clearly mark all boxes with your company name. We suggest that you write it on multiple sides of ALL of your boxes.
Boxes can not arrive at the hotel before September 4, 2023.
Address all shipments to:
Grand Hyatt Hotel Bogota
Calle 24 A # 57 – 60, Bogotá, Colombia, 111321
Attn: STEP LatAm - Daniela Gonzalez
If you require a broker to manage your international shipping, we recommend the following company:

Logicol
Please review their Terms & Conditions
here
.
ADVERT SPECIFICATIONS & DEADLINES
Due date: July 3, 2023
Digital media wall: 2 monitors mounted in the exhibitor's hall. Brand films and static adverts are combined to produce a continuous video loop.
Most sponsorship levels have a choice of brand film OR static advert.
Please refer to page 6 of the sponsorship document for your digital advert benefits.
If you do not want to submit a brand film or static advert your logo will be used.
Contact us if you need help sending large files.
Brand Film (no audio)
Time allotted is based on your digital advert benefits.
Video must be in mp4 format in high resolution.
Subtitles can be included.
Click here to see an example.
Static Advert

Conference App
SOCIAL MEDIA BANNER
Show your support for the Conference, by posting this banner on your social media accounts.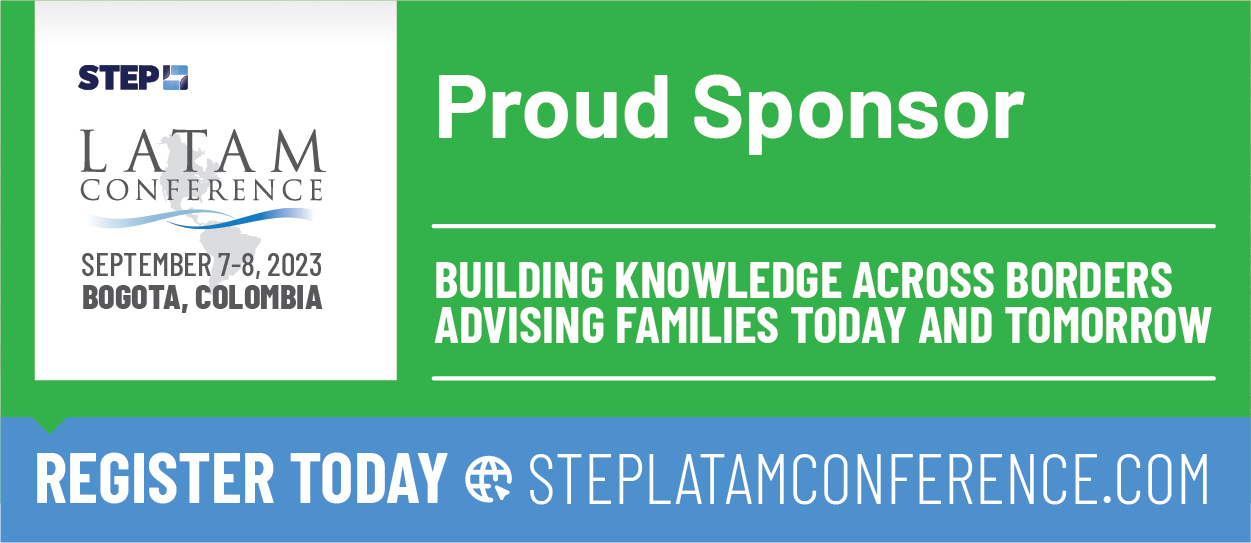 If you have any questions based on your specific sponsorship package, please
Contact us
.
We look forward to having you join us this year in Bogota.